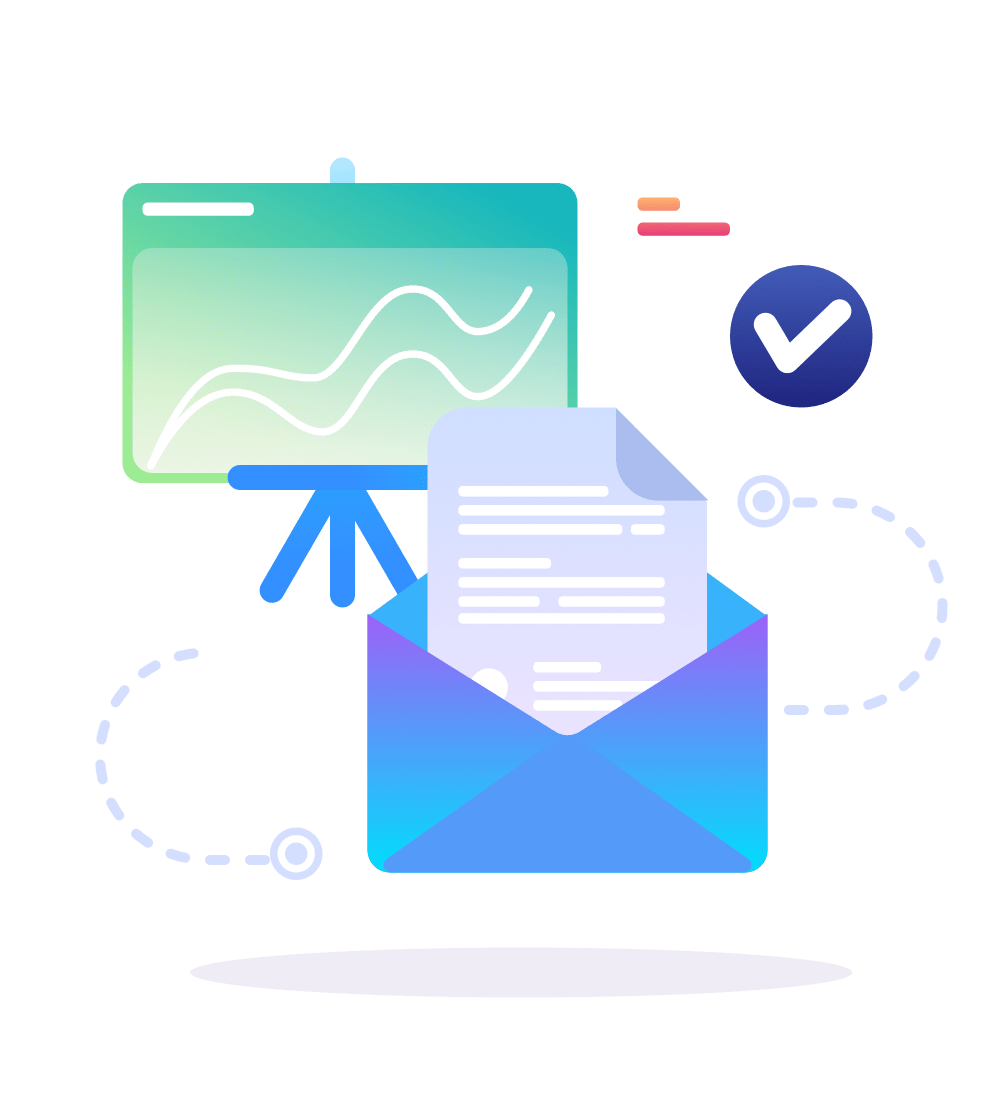 Email Leads
Automate your email list building, cleaning, and sending. We help you generate high-quality leads; it's about the niche relevance to your business.
Email marketing provides an effective connection with your targeted audience and gives you the best return on investment. We focus on the foundational aspects of email marketing— lead generation, email verification, and cold email templates.
Marketers agree that email is a key to business, especially for ROI and developing long-lasting profitable relationships. A personalized, segmented and targeted email marketing campaign is important for brand awareness.
Our experts use advanced tools for strategic implementation of laser-targeted lead generation. We can take care of your complete lead generation to email list verification, and persuasive copywriting.
SMTP + Email Sender
Our team will set up an email sender and configure the best SMTP server for your use case, together with IP warm-up guide, and are open to answering your questions.
Email Extraction for You
Scrape emails and niche-relevant details from Instagram. This is useful for laser-targetted marketing that tends to yield the highest return. Based on the vast amount of data from industry experts, indeed, money is in the list.
Verify Your Email List on the Go
It is time to ditch the dirty emails from your list. See, such emails would never convert. There is no magic formula that can make them convert. Our team will help you clean your email list to smoothen your sale funnel. Email Service Providers (ESPs) will love you for it.
Growth-hack your sale conversion with our email marketing products stack. Our reliable formula combines lead generation with a persuasive cold email strategy.
Send approximately 1 million emails monthly per SMTP server.
Automatic managed IP-Rotation
Interspire or Mailwizz Or AcelleMail EMA
DKIM, DMARC, SPF
Installation/setup of PowerMTA
Rotation of multiple IPs
Fast and clean delivery
Automatic Bounce Handling
Unlimited A/B Split Testing
Unlimited Auto Responders
Unlimited Lists
Unlimited Contacts
No suspension for your list
Clean IPs Guaranteed
Exceptional Inboxing rate
Send up to 1 million emails/month
Send secure emails with SSL/TLS for SMTP server
Supports Port25
Upload your 1M list in a few seconds into the server
Plus our IP warm-up guide ($19 value). We'll give it for free.
You will get our 100+ Cold Email Templates ($39 value) for free.
Complete setup and login access to the server, applications will be delivered within 3-5 days.
Contact us anytime, we are available on Skype and Telegram.
Verify up to 2 million emails per order, without hassles.
Our price is 80% lesser than the existing market rates, unlike NeverBounce which charges you insanely high prices.
Purge away: 
Hard Bounce E-mails
Soft Bounce E-mails
Duplicate E-mails
Syntax Error E-mails
Dead server E-mails
Fake domain E-mails
Gibberish E-mails
Throwaway E-mails
Honey pot / Spam-Traps
Catch-all E-mails
Unknown E-mails.
Clean the email list of any domain name and extension.
Ultimately, we deliver the clean version of your email list in  Excel (CSV file).
Once you place an order, we will start cleaning your email list and deliver the result in a CSV file within 24 hours.
Contact us anytime, we are available on Skype and Telegram.
You can choose to scrape emails & other details of the followers of any Instagram user whose username you will provide to us.
You can choose to scrape emails by hashtag(s) on Instagram
More than just email addresses, you will also get many other details of the followers:
Full names (guaranteed)
Emails (guaranteed)
Phone numbers (if added)
User ID (guaranteed)
Posts Number (guaranteed)
Following number (guaranteed)
Username (guaranteed)
Followers count (guaranteed)
Website (if added)
City name (if added)
Biography (if added)
Address (if added)
Account type - business vs private (yes)
No stress, simply specify what needs to be scraped by hashtag or username. We'll do the heavy lifting for you within 24 hours.
You can scrape emails for any niche by targeting Instagram followers in that niche or hashtag. Don't know what hash tag or username to scrape? Don't worry, we will figure it out for you.
Ultimately, we deliver the email list in Excel (CSV file).
Once you place an order, we will start the scraping process immediately, and deliver the results in a CSV file within 2-5 days depending on order volume.
Contact us anytime, we are available on Skype and Telegram.
Frequently Asked Questions
Do I Need to Buy an SMTP server like Amazon SES and Gmass?
No. You do not have to buy an SMTP server like Amazon and Gmass. We will set up and configure a custom, reliable SMTP server with 5 dedicated IP for you.
On which OS will you set up my SMTP server and Email Application?
SMTP server & Email App will be hosted on a Linux or CentOS 7 64 bit (>=4GB RAM, >=30GB Space). We will provide a separate VPS for this purpose. You don't have to buy CPanel, we will install VESTACP.
How Many Dedicated IPs Come with the VPS and Do I need More?
VPS usually comes with one default IP and we will need more additional IPs for IP rotation. But don't worry, we will provide six dedicated IPs for free.
Are there an Ongoing Cost for Maintaining my VPS Monthly?
Yes. You have to pay $11/month for the Linux or CentOS VPS and $10/year for one sending domain name. No additional cost is required apart from these.
Do I need a Separate Domain Name for Sending Bulk Emails?
Yes. You have to provide us with a separate domain name for this purpose, to bulletproof your main domain against any possible IP ban.
How Many Emails Can I Send Monthly? At what sending speed?
1 million emails/month at the speed of 33,000+ emails/day (1,388 emails/hours max). This is the maximum recommended, for best results.
Do You Provide IP Warm-up Guide?
Yes, we will provide an IP warm-up guide. Initially, you have to follow the IP-warmup process (start with the low sending volume and gradually increase toward higher volume) to gain a positive reputation for your IPs and for better email delivery.
Can You Clean My Email List?
We provide advanced email list cleaning services at affordable prices ($9 per 10k email verification). You can clean up to 2 million emails at once. For more information about our email verification service, see Email Verification.
Will You Give Me a Dashboard to Import and Send Emails?
Yes, we will provide a dashboard that allows you to import and send emails. You will get the login details to the dashboard which also has the functionality to track your email marketing metrics such as delivery rates, open rates, etc.
Is the 100+ Cold Email Templates free if I Order the Email Sender?
Yes, you will get the 100+ Cold Email Templates for free if you order the Email Sender Setup. The templates contain 100+ written examples of cold emails that you can modify and send, depending on your use case. It is a 104-page eBook.
Will My Emails Go to Spam Folder?
While we have had many clients with high inboxing rates, please be advised that we do not guarantee 100% inboxing as this depends on many other factors. For example, if you include spammy words in your emails or do not warm up your IP, your emails might end up in spam.
Are emails guaranteed in Scraping?
Yes, it is guaranteed that each scraped Instagram contact (by hashtag or username) will have an email address. This means that you pay for results only and no useless contact details will be included. For more information about our email scraping service, see IG scraping.
Can I see a demo of this product?
Can you help me send the emails?
If you rather want us to do the sending for you, please understand that you will be charged $799 per month for 1 million emails. This will be fully managed by us. You may subscribe to this plan.
We handle everything from Email sender + SMTP setup to Email verification, IP Warm-up Kit together with 100+ Cold Email Templates for your use case. You sit back and relax while our experts deliver quality.